Along with aparthotels, you may also have heard of residential hotels, where people usually stay for months.
As for Native, we're prefer to call ourselves aparthotels. When you stay with Native, you don't just get award winning design, central locations or stunning architecture, you get comfort, convenience, and everything you need to live.
What is a serviced apartment?
A serviced apartment is a self-contained furnished apartment within a residential building that is professionally managed and available for short or long stays. It comes with a fully equipped kitchen, laundry facilities and other services that enable guests to live, not just stay.
We set up home in eclectic buildings of all styles, shapes and sizes, from grand Victorian mews houses to vast Mancunian warehouse conversions. Every Native building is unique so you may or may not have an on-site reception team to welcome you and get you checked-in. To offer privacy we offer a weekly clean, rather than a daily clean that's provided by hotels.
For a kitchen whiz or food lover, it's ideal. After all, room service has got nothing on shopping at local markets and independent shops, and cooking up a storm in your very own kitchen, which we've furnished with everything from coffee cups to corkscrews.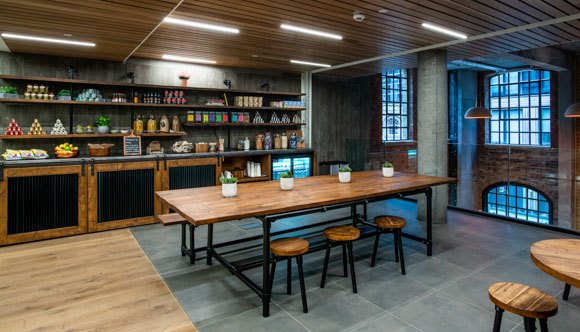 What else can you expect in your serviced apartment? As dishwasher, washer dryer, lounge area, private bathroom, TV, weekly housekeeping and all utilities included in your stay e.g. water and electricity.
If you're travelling on business, it couldn't be better. No waiting around for executive lounges to open, paying for Wi-Fi or being interrupted by officious hotel staff when you're trying to meet a deadline. Instead, you've got peace and quiet, free Wi-Fi and space to live, as well as work.
Book your Native stay in London, Glasgow or Manchester.