I'm in the mood for…all things Scottish.
If you want to experience traditional Scottish cuisine, Café Gandolfini is your first stop. From cullen skink and haggis to smoked venison, the menu is a veritable culinary voyage across the country. It's also just one of a growing local restaurant empire, with Bar Gandolfi, Gandolfi Fish and takeaway Gandolfi Fish to Go all flying the flag for seasonal Scottish cuisine.
I'm in the mood for…something hearty.
Germanic meets Glaswegian at West on the Green. Drink brilliant beer where its brewed, all alongside big, bold Bavarian barbecue, bar snacks and more. Think schnitzel, currywurst, and strudel for dessert. It's also great for breakfast and brunch – try the West Full Breakfast or the Eggs Portobello – and there's al fresco dining space too.
I'm in the mood for…fancy Scottish fare.
Inspired by the famously greedy bird that gave this place its name, The Gannet is a wonderfully elegant Three Rosette restaurant. The menus here are both delicious and seasonal, using lovingly sourced Scottish produce from across the country. The wine list is excellent, too – the organic and biodynamic vintages are well worth a try.
I'm in the mood for…sizzle and spice.
Julie Macleod, MasterChef contestant and resident Glaswegian, has opened one of the city's favourite foodie spots. Serving vibrant, lovingly prepared Malaysian dishes passed down from her mother, Julie's Kopitiam is the place to go for a proper culinary adventure. It's a tiny place and there's no booking, so be ready to join the waiting list, or turn up for an early dinner when it opens at 5pm.
I'm in the mood for…a big, juicy burger.
El Perro Negro is the home of Scotland's best burger, according to scores of reviews and regular queues. Using carefully sourced beef from small farms and ingenious garnishes like bone marrow butter, truffle mayo and black pudding, these are more than just something to soak up the booze on a night out.
I'm in the mood for…something fresh and authentic.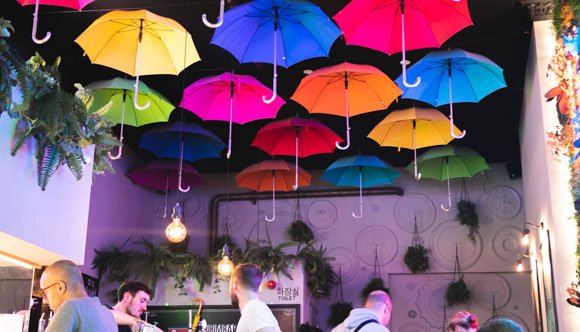 Bibimbap is simply Korean comfort food – a warm and cosy rice dish that's just one delicious option on the menu here. Bibimbap in the heart of town is the perfect place to experience authentic Korean cuisine, from bulgogi (barbecue beef) and japchae (sweet potato noodles) to saeu (prawn katsu curry) and the ultimate KFC – Korean fried chicken.
I'm in the mood for…a kebab.
No, not a sweaty pile of questionable meat in a microwaved flatbread. We're talking real kebabs, as their Greek, Turkish and Levantine heritage intended. At 'Babs, great quality lamb, chicken, swordfish and vegan steak is grilled over proper charcoal fires, all served on freshly baked pita bread, with hummus and a tangy shredded salad. There's also plenty of moreish mezze and artisanal baklava for dessert.
I'm in the mood for…fine French food.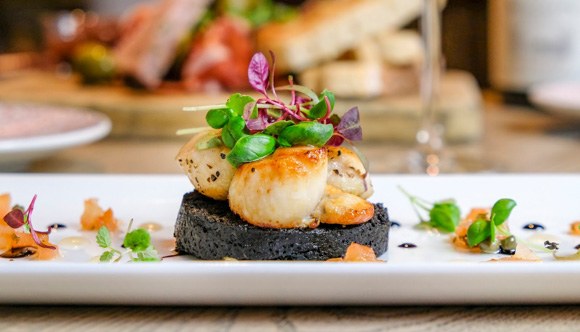 You needn't venture far for Glasgow's best French cooking. In fact, all you need to do is trot downstairs! Atlantic Bar & Brasserie at Native Glasgow offers a fresh take on Gallic classics. Think escargots, French onion soup and moules frîtes, along with a brilliant rotisserie for the juiciest roast chicken you've ever had. There's also live jazz at the weekends, and a delicious low FODMAP menu.
I'm in the mood for…the best pizza in town.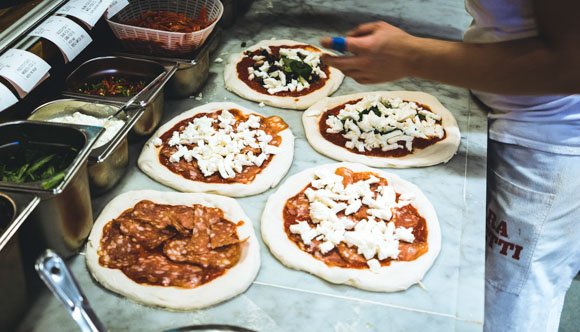 Credited with bringing real Neapolitan pizza to Glasgow, Paesano now has two restaurants in the city and shows no signs of slowing down. Here the pizzas are made with moist, light and soft crust, simple but brilliant quality ingredients, and are made by pizzaioli who are truly passionate about what they do.
Book your stay in one of Native's Art Deco holiday apartments in Glasgow and take a food-lover's tour of the city.