There was no fire service at the time, so Londoners took it upon themselves to extinguish the flames over four days and nights, with only buckets of water to hand. The fire consumed over 13,000 houses, the old St Paul's Cathedral, 87 churches, the Guildhall, the Royal Exchange, 52 livery company halls and four stone bridges. In fact, it was said that the heat from the fire was so great that the lead roof on St Paul's Cathedral melted and flowed down the streets.
Miraculously, only five people are known to have died in the Great Fire, and some of the City's most beautiful architecture was born out of the 50-year rebuilding effort, led by Sir Christopher Wren. The Monument, one of Wren's creations, is great for getting a panoramic view of your City surroundings, so be sure to pay a visit and take a photo or two from the viewing platform.
While you're just moments from The Monument, you're also just a three minute stroll from one of the City's best loved (and least known) historical hideaways – St Dunstan in the East church garden. The Church of St Dunstan was originally built around 1100 and is a Grade I listed building. It was named for St Dunstan, a tenth century monk who reportedly survived black magic and leprosy to become Archbishop of Canterbury.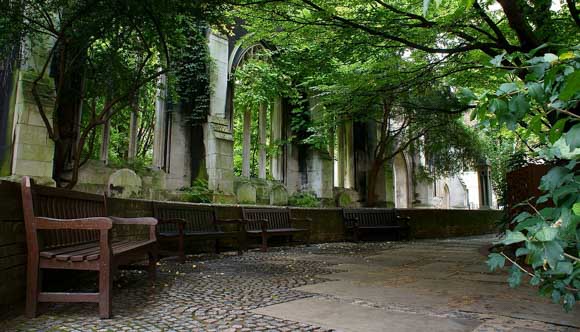 The building partially survived The Great Fire but was severely damaged again in the Blitz bombings of 1941. Today it's a public garden, with trees growing through windows and vines winding their way around arched doorways and crumbling walls, making a gorgeously green haven from the bustle of the City. Here you'll find suited and booted workers escaping office life alongside art students sketching the beauty around them. It's the ideal spot for a picnic, a lunch break with a book or a breather from a day's sightseeing.
Book your stay at in one of our City of London apartments.