Bobby's accustomed to attracting a crowd of awe-inspired fans as he works, so he was happy to talk to Native Glasgow guests while he created Look Up, answering questions about where he finds his inspiration.
"All sorts of things inspire me," he said. "Music, culture, fashion and life. I love the culture that's in the city between the music and clubbing. The architecture. Quirky wee things that makes you fall in love with it and enjoy it."
We told Bobby that we wanted to inspire all our guests to wander the city and take in all its amazing street art. So, once he'd finished working on this fantastic new mural, he kindly agreed to give some Native Glasgow guests a local's tour of the city.
Join us on our wander with Rogue Oner.
Native Glasgow – Art Wander with Rogueoner from Native on Vimeo.
Rogue Oner's mural trail
Follow Rogue Oner's mural trail and keep an eye out for some of our favourite spots to Look Up:
The World's Most Economical Taxi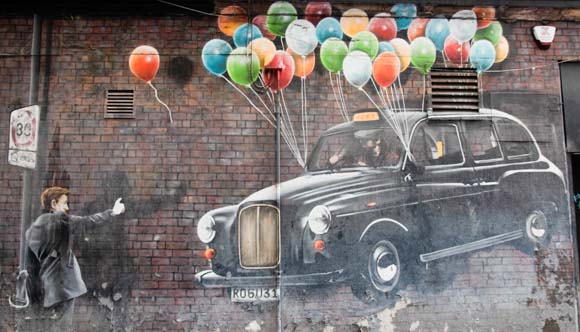 Start your tour Mitchell Street adjacent to Buchanan Street, where you'll find this fantastic floating taxi. Fun fact – Rogue Oner actually painted on the brick wall effect behind the taxi. While you're there, be sure to look out for Smug's mural on the same street called Honey, I shrunk the kids.
Billy Connolly
Rogue Oner created the mural of much-loved Glaswegian comedian Billy Connolly to celebrate Billy's 75th birthday back in 2017. You can find another of Rogue Oner's Billy Connolly murals in Old Wynd Car park.
Charles Rennie Mackintosh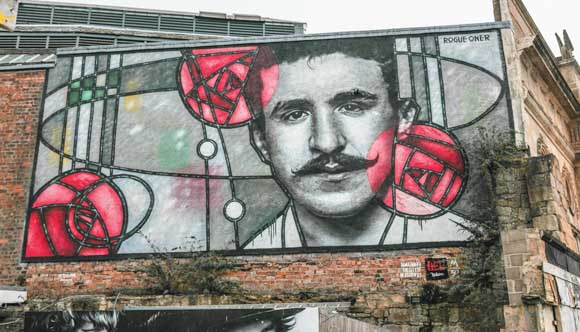 Rogue Oner, along with Art Pistol, created the mural of Charles Rennie Mackintosh for the 150th anniversary of the artist's birthday. It looms over the Clutha & Victoria Bar at the end of Stockwell Street.
Crazy Cat Lady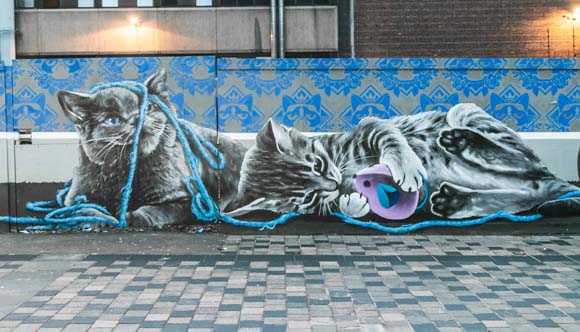 The mural of 3 cats playing beneath the feet of 'the Crazy Cat Lady' can be found on Sauchiehall Street in Glasgow city centre. It's on the site for the former Victoria's nightclub which burned down in 2018.
If street art is your thing, then why not check out People Make Glasgow's city centre mural trail.
If you'd like to see 'Look Up' for yourself, you'll find it in its current home at Platform at Argyle Street Arches.
Book a stay in the city of street art in our aparthotel on St Vincent Place.