The crack you see here is a reflection of the 2008 Jaipur bombings, which happened just four hours after Simon and Carolyn left the city. The boy is one of the city's many street children and the crack illustrates the ground being blown apart almost from beneath his feet. The boy's in constant motion, forced to keep moving to avoid the danger tailing him.
We love the way this gives the piece energy and momentum, even in the stillness of the space surrounding the boy. The photograph was taken by Carolyn, and Simon painted in the photo-realistic cracked ground afterwards, bringing graffiti and print together in a whole new way.
Where's the Crack? This artwork is displayed above your bed at Native Bankside.
Since then, Carolyn and Simon have built a small boarding school for girls in Morocco and founded a charity project that provides transport to get girls safely to and from school.
About Jon Liu
A photographic prodigy at the age of 13, Jon started his career in commercial photography and fashion, before starting to shoot more fine art. Having grown up in Singapore, he came to London to study at London College of Communication, where he started working primarily in black and white photography.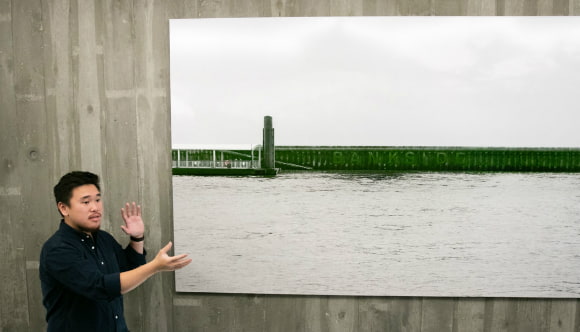 Here, he's been playing around (just a bit) with colour. This shot, named Bankside Thames, is the view of Bankside as you walk over Millennium Bridge. Doesn't look familiar? That's because Jon's removed the Tate Modern, Shakespeare's Globe and all the people.
Why? Well, Jon was inspired by German artist Andreas Gursky, who takes panoramic landscape photos that are majestic and peaceful at the same time. By taking all the distractions out of this Bankside scene, Jon's given it a kind of calm and tranquillity that just doesn't exist in our bustling neighbourhood. It's a sort of escapist fantasy, if you will.
You'll find this piece in our entrance lobby.
About Frida Wannerberger
Frida, who grew up in Switzerland with her Swedish parents, is another international artist who brought her talent to London. Studying at the world famous Central Saint Martins school of art, Frieda started creating these astonishing paintings of girls, each sporting different fabrics.
Once a Victorian tea warehouse on Bear Gardens, so named for its famous bear baiting ring, our Bankside hotel has a rich history that Frida was keen to highlight in her paintings.
We love how Frida's six different girls are accompanied by swatches of fabric that give a hearty nod to our building's history, like bears for bear baiting, or compasses and Chinese pagodas for the tea trade. They're both dreamy and bold, irresistible to the eye and perfectly set off by our soft grey living room walls or our apartments.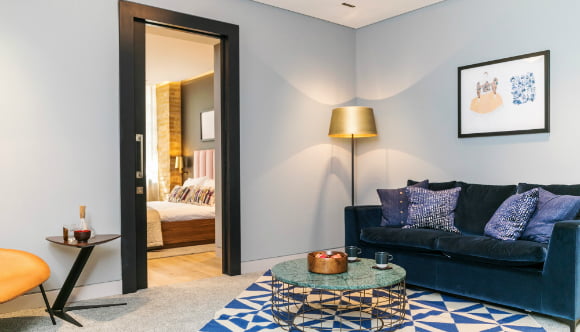 Come and see the artwork for yourself at Native Bankside or follow our artists on Instagram @beckerharrison, @jonsaysrelax and @fridawannerberger.